The Escalon, CA Plumbers You Need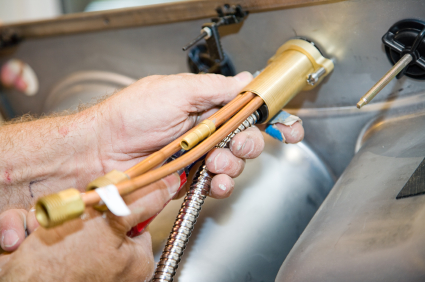 If you're an Escalon resident or commercial building owner, your plumbing system will be in great hands with our Rooter Pro Plumbing plumbers. Whether you have leaks, drain clogs, cracked sewer lines, gas line connections, or any other plumbing problem, we can take care of it for you. Our Escalon plumbers are fully experienced, licensed, background checked and drug tested, and are equipped with state of the art equipment to do the work efficiently and effectively. We offer our customers in Escalon and other areas of California a 100% guarantee on our workmanship. But you'll never have to worry because we make sure our customers are satisfied.
At Rooter Pro Plumbing, our professional Escalon plumbers are dedicated to quality services done in a timely manner at a fair, upfront price. Our dependable plumbers can help you any time of day or night for emergency plumbing repairs.
24/7 Emergency Plumbing Repairs
Clogged Drain Specialists
Commercial & Residential Plumbing
Sewer Line Repairs
Gas Lines
Video Inspection
Water Filtration
Water Softeners
Water Heaters
Tankless Water Heaters
Hydro-Jetting
Kitchen & Bath Remodeling
Preventative Drain Cleaning
Fixture Replacements
Garbage Disposals
and more
24/7 Emergency Plumbing Repairs For Escalon
When your plumbing springs a leak or your drains get clogged, call on the professional plumbers at Rooter Pro Plumbing. We'll be there in a flash with expert troubleshooting to take care of all your plumbing problems. You can count on our team of Escalon plumbers to be there for you whether it's in the middle of the night or after hours. Rooter Pro Plumbing works hard every day for the Escalon and surrounding areas. Our goal is to be your go-to plumbers no matter if you have emergency repair needs or plumbing services that can be scheduled for another time.
Whether you are a homeowner or commercial business owner in Escalon, your plumbing problems can be taken care of by our expert local plumbers. Take down our number for those emergency situations where you need unexpected repairs, clog removal, leak detection, frozen pipes, or any other plumbing emergency. We're ready to help you!
Escalon Sewer & Drain Cleaning
Your Escalon sewer lines and drains need attention from time to time. It's the same for all your plumbing system including connections, fixtures, water heater, and more. If not taken care of on a regular basis, problems can eventually cause clogs. Lime scale and sediments can coat your Escalon pipes to such a degree that only a trickle of water can flow. To ensure this doesn't happen to you due to sediment and other problems, first, get your sewer lines and drains cleaned and then install a water softener so you're pipes don't get the build up or leave you with piled up debris that gives off bad odors.
You Can Rely On Our Expert Plumbers
If you are looking for plumbing services in Escalon, California, then please call 209-834-0173 [Manteca], 209-576-1617 [Modesto], 209-835-3114 [Tracy], or 209-462-3735 [Stockton] or complete our online request form.