Professional Installation, Maintenance & Repair For Water Heaters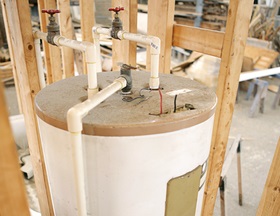 Rooter Pro Plumbing are the professional plumbers to call for installation and repair of water heaters for the Manteca, Modesto, Stockton, Tracy, and surrounding areas in California. Whether you own a home or a commercial business, we can take care of your water heater needs. We work on all types of systems including gas and tankless water heaters. If your hot water heater isn't working properly, it can be really inconvenient because you use hot water for many things including cleaning. If you're a commercial business owner and you use hot water in your business, it can shut you down not to have access to it or if it winds up flooding your building.
Water Heater Installations & Replacements
It's inevitable that your water heater will eventually quit on you, requirement replacement. Whether you're needing new installation or replacement, our professional plumbers are here for you. Are you adding on to your home and need to have access to hot water? Consider a tankless system because they are much easier to install and more energy efficient. We can help you choose the right water heater system for your new installation or replacement.
Water Heater Repairs
When you find out your water isn't hot, your water heater needs repair. But first, the reason for the problem has to be determined. You may need some simple repair like a heating element replacement, or you could end up better off with a replacement. Water heaters are rated to last an average of five years, but it depends on how new and what type you have. Today's water heaters are more efficient, which can warrant replacement on an older unit. You can trust our expert advice as Rooter Pro Plumbing is always honest with our customers.
Water Heater Maintenance
Taking care of your water heater is just as important as taking care of your lawn mower or vehicle. Regular maintenance by a professional is important for the longevity of your water heater. With some fresh water systems, there are problems with sediments accumulating in the bottom of hot water heater tanks. This means your tank may also need to be flushed out during the maintenance. When sediments are heated by a water heater, they turn into scale which is a sticky substance that sticks to your heating elements. If your hot water heater hasn't been maintained, call us for this very affordable service.
Tankless Water Heaters
Many have discovered how great tankless water heater are for their homes and businesses. A tankless water heater can be installed to serve the entire needs of the home or commercial business. Instant hot water with no tank for sediments to build up in is the way to go for many today. Rooter Pro Plumbing can help you with a great tankless water heater whether you want to serve all the faucets or just one in your home or business.
Gas Water Heaters & Boilers
Gas lines require professional plumbers who are certified to work on them. The National Propane Gas Association requires a complete skill set for gas water heaters, boilers, and other gas fed equipment. You should also require your plumber to be fully experienced before they work on your gas water heaters and boilers. Rooter Pro Plumbing has the training and experience you need for any type of repairs or installations of gas water heaters or boilers.
If you are looking for water heater services in California, then please call 209-834-0173 [Manteca], 209-576-1617 [Modesto], 209-835-3114 [Tracy], or 209-462-3735 [Stockton] or complete our online request form.