Professional Water Softeners Installation & Repair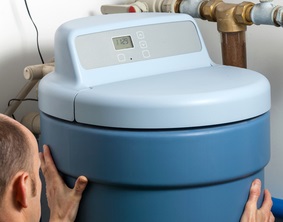 When you have hard water in your commercial building or residential home, it's important to get it treated properly or you have problems with rust, corrosion, and scale buildup. Scale sticks to everything, including your clean dishes in the dishwasher, you, and all your plumbing parts. You can scrub, scrub, scrub, but it won't come clean. Soap scum buildup in the shower, powder all over your dishes, and plumbing clogs from narrowed drains will drive anyone nuts. We can solve all that with a good water softener system that treats the minerals that cause scale. Sediments such as calcium and lime turn into scale when heated to a certain degree. Water softeners remedy this problem.
Water Softener Installations
Getting a new whole home or building water softener system will help you control your hard water problems through every faucet. You'll need a professional plumber to do the work to tie the system into your existing plumbing. By working with our expert plumbers here at Rooter Pro Plumbing, you'll have the best in quality products, workmanship, customer service, and pricing. We can test your water as well to determine the amount and types of sediments in your water and what you need. We'll give you expert advice and an installation you'll be satisfied with -100% guaranteed. Rooter Pro Plumbing is the name to remember for your water softener installations, repairs, and maintenance.
Water Softener Repairs
There may be times when you need to have repairs made on your water softener system. If so, our professional plumbers can handle them. If the system hasn't been maintained, you can wind up with more costly repairs or a full replacement on down the line. Let us help you with your repairs as soon as they happen.
Water Softener Maintenance
For the best way to keep your water softener healthy, call our professional plumbers at Rooter Pro Plumbing. We can ensure your water softener stays in great shape year round so you don't wind up with problems. You may have a salt-based ion exchange softener or a salt-free water softener. There are advantages and disadvantages to both systems, but they both need to be maintained. If you have a whole home water softener system or a commercial system, it's important to keep it in good shape.
Rooter Pro Plumbing has a large service area in California including Manteca, Modesto, Stockton, and Tracy. If you live in or around any of these areas, we can help you with your water softener needs. Call on us for water softeners and all other plumber service needs. We look forward to working with you and showing you in person how we take the best care of our customers!
If you are looking for water softener services in California, then please call 209-834-0173 [Manteca], 209-576-1617 [Modesto], 209-835-3114 [Tracy], or 209-462-3735 [Stockton] or complete our online request form.