The Right Plumber For Kitchen & Bathroom Remodeling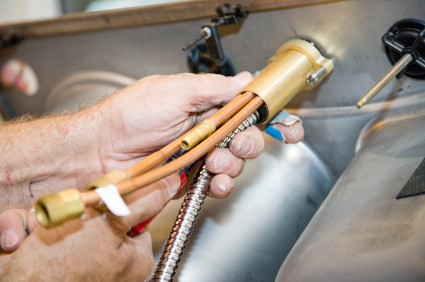 If you live in Modesto, Manteca, Stockton, Tracy, or other nearby areas in California, Rooter Pro Plumbing are the right plumbers to choose for your kitchen and bathroom remodeling project. Our expert plumbers can reroute your plumbing, repipe, or repair your plumbing systems and update all your fixtures for you. Large fixtures are items such as tubs, bathtubs, showers, and toilets while small fixtures include your faucets, shower heads, handles, spouts, etc. Rooter Pro Plumbing can replace any fixtures you'd like to update with beautiful options we can help you choose if you need the expert advice.
Sometimes when you're remodeling a kitchen or bathroom, you can run into unexpected problems like finding out that your plumbing system needs more work or that an old remodeling project wasn't done right. That's a huge reason why it's important to ensure you have the right professional plumber on the job. Those with the experience will know exactly how to handle all issues that may come along to your benefit. You need a plumbing company who understands local building codes and can take care of the inspections and ensure your kitchen and bathroom remodeling project is done right. Rooter Pro Plumbing is the answer when you're looking for the right Manteca area plumber for kitchen & bathroom remodeling projects.
Where To Start With Kitchen & Bathroom Remodeling
Many of our customers ask where they should start when planning to update their kitchen and bathrooms. Many choices should be made according to your budget for the project. For smaller budgets, the biggest impact you can make is changing out some of the larger fixtures in your space including possibly the shower, bathtub, and sinks. Along with some small fixture replacements, this will make a big difference in how your space looks. There are plenty of beautiful options in fixtures for small budgets. For larger budgets, you may want to choose between getting it all replaced or pick fewer items to change if some of your fixtures are in good shape while splurging a little on something special.
Green Options In Kitchen & Bathroom Remodeling
If you're into eco-friendly materials that help our planet, why not choose natural stone or glass? Glass is 100% natural and can be recycled forever, and choosing options in green glass gives you stunning style in sinks. Green glass is made of sand, soda ash, and limestone, glass is an inert material that doesn't absorb anything, plus it cuts CO2 emissions by 20%.
Rooter Pro Plumbing can help you choose the right fixtures and plumbing options for your Modesto kitchen & bathroom remodeling project. Call today for an upfront, friendly quote to get you started in the right direction!
If you are looking for kitchen and bathroom remodeling services in California, then please call 209-834-0173 [Manteca], 209-576-1617 [Modesto], 209-835-3114 [Tracy], or 209-462-3735 [Stockton] or complete our online request form.