Trenchless Sewer Repair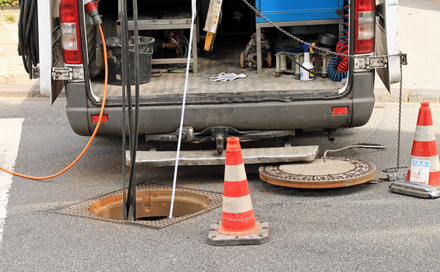 Instead of having to dig out, pull up, and replace your sewer lines, trenchless methods for sewer repair are often better to do. There are two main methods of trenchless sewer repairs -pipe busting, and pipe lining. Our professional plumbers at Rooter Pro Plumbing are the Modesto and surrounding area plumbers of choice for commercial and residential trenchless sewer repairs. We have the experience and all the right tools to effectively assess your sewer lines to determine which method is best for your unique situation.
Without a trenchless solution, your sewer line repairs will be quite a bit more complicated, and probably more costly. The sewer lines will need to be dug out of your landscape with a trench or out of your foundation by breaking the area apart. Then, the sewer lines will need to be pulled out to remove and replaced. But then the landscape, hardscape, or foundation has to be restored. And many times, property owners are also required to dig up the street in front of the property, traffic to be rerouted, and any city owned property restored. You can avoid all that with trenchless sewer repair.
The Trenchless Pipe Bursting Sewer Repair Method
When a profession plumber does pipe bursting, it's the method of choice if the lateral pipes have joints or has collapsed, but only if there's room to put a cable through the old pipe. Otherwise another option may have to be done. The method involves pulling a new pipe through the damaged one while fracturing the old pipe outward. Access holes will normally be placed on either side of the sewer line. This is a great option in the right conditions where pipelining wouldn't be the best choice.
The Trenchless Pipelining Sewer Repair Method
With trenchless pipelining, repiping is done by inserting a flexible pipe lining into the old sewer line that will eventually cure in place, creating a new pipe within the old one. This doesn't affect water flow. This method of sewer repair doesn't break up the broken pipes like pipe bursting does, but creates a new pipe inside the old one instead. After the pipe lining is inserted into the old sewer line, an air filled bladder holds the lining as it hardens into place. The bladder is removed. You'll have a brand new, strong and seamless pipe that lasts.
Both methods of trenchless sewer repair are very effective, durable, and long lasting. Normal sewer lines may have joints where leaks can occur or tree roots can clog them up. Trees will send their roots looking for water and many species will have a massive root system that can make its way to your sewer lines. They can strangle your pipes or work their way into the seams. Since these methods are seamless and strong, you'll likely never have those problems again. Call Rooter Pro Plumbing if you need your Modesto, Manteca, Stockton, or Tracy sewer lines repaired. We offer the newest technologies that give you the best solutions for plumbing repairs.
If you are looking for trenchless sewer repair services in California, then please call 209-834-0173 [Manteca], 209-576-1617 [Modesto], 209-835-3114 [Tracy], or 209-462-3735 [Stockton] or complete our online request form.