Professional Plumbing Repiping Services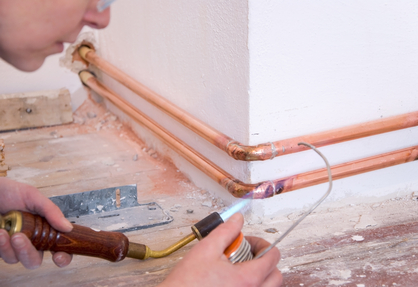 Professional repiping repairs can be done on all your plumbing pipes whether it's your sewer lines or fresh water pipes. With repiping, there are various methods used to replace your broken pipes depending on the aspects involved. If the area isn't extensively damaged, it makes more sense to just dig up the pipes to replace them. But in many instances, it can be better to do a trenchless method to replace a long section, such as when pipes are old and need to be replaced anyway.
Sometimes it isn't easy to know if you have plumbing leaks going on. There are things you can look for though, that will at least give you a clue that something is going on in a hidden area. Watch for:
Rust spots on laundry
Continuing pipe repairs
Unclear or foul smelling water
Low water pressure problems
Spikes in water bills
Pools of water
Soaked spots on lawn
Foundation wet spots
The Manteca, Stockton, Modesto, & Tracy Area Repiping Experts
Rooter Pro Plumbing is the plumbing company you need for expert repiping service whether it's for your home or commercial business. We service many areas in California in the Manteca area, so take a look at our service area lists. Give us a call if you're in or near any of these areas and you need repiping service. If you have an older pipe system, you may have the old galvanized pipes. These will rust and corrode with time, so you may have bad water running out of your faucets. This pipe system should always be replaced with modern pipe systems that use advanced technologies to remove problems like this.
Rooter Pro Plumbing offers a full line of plumbing services. We offer 24/7 Emergency repairs so that you can count on us to be there when you need us the most. We highly trained and experienced plumbers use state of the art equipment to detect leaks wherever they are without digging, view the inside of your pipes with video technology to examine clogs and other problems, and trenchless techniques for repiping to save your lawn from trenching or foundation from being torn into. We'll get the job done right the first time.
Having problems with your plumbing pipes can be frustrating and extremely inconvenient. There's no reason to wonder if somethings going on with leaks because you need to know right away so the repairs can take place if there are. If you suspect you have a problem, give us a call and we'll check for leaks, pinpoint the area, and get it fixed for you. If you don't have a leak and there's some other problem going on, we can diagnose it with expertise.
If you are looking for plumbing repiping services in California, then please call 209-834-0173 [Manteca], 209-576-1617 [Modesto], 209-835-3114 [Tracy], or 209-462-3735 [Stockton] or complete our online request form.