Video Pipe Inspections For California Areas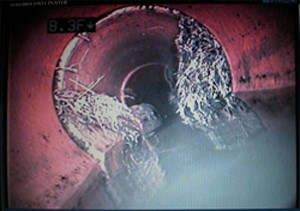 If you live in Manteca, Modesto, Stockton, Tracy, or other nearby areas in California, you can call our professional plumbers at Rooter Pro Plumbing for expert video pipe inspections and more. Video pipe inspections are often needed to examine the condition of the inside of the pipes, or troubleshoot clogs and leaks. This saves your property from digging and the high cost of labor for digging to locate problems in your sewer lines or fresh water lines. For your pipe inspections, Rooter Pro Plumbing plumbers are the experts to call.
You can save both time and expense by having us use our advanced technologies for your plumbing problems. Many problems can occur for your plumbing pipes that can't be seen. Digging used to be the only way to locate, identify, and solve these problems. Today, plumbers like ours can use state of the art video pipe inspection techniques to save the need for digging. We no longer have to dig up your landscape, foundation, walls, or anywhere else to locate plumbing problems.
How Video Pipe Inspections Work
Just like taking a video with your smartphone, we can insert a long, flexible line with a video camera attached to the end into your plumbing drains. The video camera records the footage and we can watch remotely. We'll see clearly how the inside of your pipes look to determine the cause and location of clogs or cracked and leaky pipes, what's causing them, and what's needed for repair.
The recorded video pipe inspection doesn't just help plumbers to know what to do for repairs, it can also help you because you can use this documentation for various needs. You may need the video for insurance purposes, for your landlord, or for other reasons you have to show proof to a third party. Don't risk not getting a problem with your pipes addressed because you don't know what's wrong. If you see any of these following problem, we need to do a video inspection for you and solve the problem with your pipes.
Water pooling on lawn
Wet foundation
Bad odors from drains
Slow moving flow
Spike in water bills
Frequent clogs
Call Rooter Pro Plumbing For Video Pipe Inspections
Our advanced diagnostic techniques should be done prior to any other service to locate problems. You don't want to deal with digging or any other lesser methods because it just doesn't need to be done that way today. Not all plumbing companies have the tools, experience, and advanced technologies to make quick order of plumbing repairs. Rooter Pro Plumbing can quickly and efficiently locate the plumbing issues that are causing your clogs and leaks. We offer upfront, competitive quotes, 100% satisfaction guaranteed on our workmanship, background checked and drug tested employees, and a full dispatch 24/7 emergency repair line.
If you are looking for video inspection services in California, then please call 209-834-0173 [Manteca], 209-576-1617 [Modesto], 209-835-3114 [Tracy], or 209-462-3735 [Stockton] or complete our online request form.