Hydro-Jetting Plumbing Services In Modesto & Nearby Areas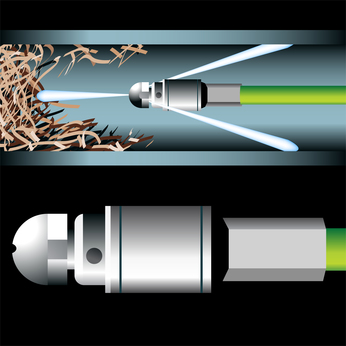 Hydro-jetting equipment uses high pressured water streams to get rid of clogs and clean out your drains and pipes. Literally, a life-time of buildup from sedimentary scale can be blasted out of your pipes and drains. This is a powerful, efficient way to clear drains and remove buildup. Pressures range from 7,000 to 60,000 PSI which can deal with anything within your pipes. Your plumbing system will work better and you'll be decontaminating sewer lines. As regular maintenance, you'll be keeping your pipes in great working order.
Years ago, there was no such hydro-jetting technology. When pipes became coated with scale and other deposits, it was a lot of work to replace them. Today, your pipes can be whistling clean with our hydro-jetting service.
The Right Plumbers For Hydro-Jetting Services
When you hire a plumber for hydro-jetting, you want to make sure they have the training, expertise and the right tools to take care of it for you. You also need to be sure you are working with a local licensed plumber and that they are background checked and drug tested. Rooter Pro Plumbing is the plumbing company you can trust to ensure our plumbers are experienced, properly credentialed, insured, background checked and drug tested.
Not every local Modesto plumber can offer you hydro-jetting service. Rooter Pro Plumbing are the local plumbers of choice for hydro-jetting if you own or rent in the Modesto and surrounding areas. We have all the right equipment, tools, training, and experience needed to effectively and quickly clear out your pipes and drains with professional hydro-jetting equipment. Your clogs and scale buildup won't stand a chance!
Hydro-Jetting Is Safe, Won't Destroy Your Pipes or Connections
With hydro-jetting, the use of high speed and highly pressured water is used to clean your pipes and drains safely. Today, it's the way to go for experienced plumbers who have all the right tools because its so efficient and safe. The hydro-jetting services removes the touches blockages and leaves the lines completely cleaned. Scale is a rock hard substance when it forms on your pipes and drains, but it doesn't stand a chance with our Modesto plumbers!
Safe for all drains & pipes
Removes sludge, grease, grime
Removes clogs
Removes scale & sedimentary buildups
Gives Long Lasting Results
Removes tree roots
State of the art technology
Commercial Hydro-Jetting
Hydro-jetting is an important process for Modesto and nearby commercial entities, especially restaurant or food service businesses. Grease can cause regular buildup, and you want your sewer system to be in good shape so you don't have to shut down just because of clogs. You can avoid more expensive problems with regular hydro-jetting maintenance. Call us today for an upfront quote you can trust to be fair and competitive. All our customers are guaranteed 100% satisfaction with our workmanship.
If you are looking for hydro jetting services in California, then please call 209-834-0173 [Manteca], 209-576-1617 [Modesto], 209-835-3114 [Tracy], or 209-462-3735 [Stockton] or complete our online request form.