Expert California Water Heater Repair Services You Can Count On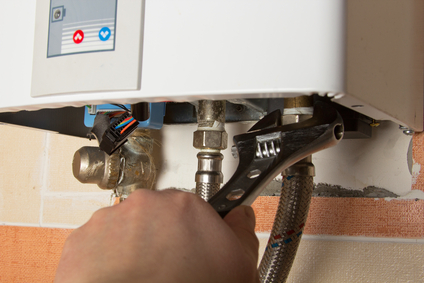 Since your water heater is the main way for you to access hot water in your home or commercial business, it will be important for you to have a connection with a local plumber in case you need repairs. Water heater repairs need to be made on all types of water heaters, so the professional plumber you choose should have the training, experience, tools, and knowledge to work on any type of water heater including gas, electric, and tankless systems. Rooter Pro Plumbing is the name to remember for all your residential and commercial water heater repairs if you live in the Manteca, Modesto, Stockton, Tracy, or other nearby areas in California.
Water Heater Leaks
Water Heater Flush Outs
Element Replacement
Dip Tube Problems
Noisy Water Heaters
Pressure Valve Problems
Thermal Expansion Installations
There are many moving parts with your hot water heater tank system that you never see because most of it is inside. It's important that your water heater get serviced at least once per year to maintain those parts and keep your water heater flushed when needed. Sediments are always present in our fresh water supply no matter where it comes from. Hard water is the result of extra sediments like calcium, lime, and magnesium.
Scale is a substance that forms when water is heated and will coat your pipes and water heater tank. This can cause the elements to burn out and create more problems. In the shower, when the heated sediments touch soap, it forms soap scum and in your dishwasher it will coat all your dishes. Professional Plumbers at Rooter Pro Plumbing can diagnose the problems you're having with your water heater and offer you the right solution for repairs if replacement isn't warranted yet.
Low Hot Water Pressure
Noisy Sounds
Not Enough Hot Water
Sediments in Your Hot Water Supply
Sporadic Hot Water
No Hot Water
24/7 Emergency Water Heater Repairs
If your water heater goes down or springs a leak, call on our professionals at Rooter Pro Plumbing and we'll be right out to take care of it. We have a full dispatch emergency repair line available for all your emergency plumbing needs. We have fair prices charged by the job, not by the hour so our customers can count on being treated fairly. Don't hesitate if you're in need of water heater repairs because all you need to do is keep our number handy for those most inopportune times. You can always count on the professional plumber at Rooter Pro Plumbing day or night, weekend or holiday for your emergency water heater repairs and other emergency plumbing needs!
If you are looking for water heater repair services in California, then please call 209-834-0173 [Manteca], 209-576-1617 [Modesto], 209-835-3114 [Tracy], or 209-462-3735 [Stockton] or complete our online request form.